Acne fulminans
Acne fulminans , also known as acne maligna, is a rare and very severe form of acne conglobata associated with systemic symptoms. It appears suddenly in a person with inflammatory acne and is characterized by fever, inflammation and aching of joints especially hips and knees.  Acne-fulminans predominantly affects young males aged 13 to 22 years with a history of acne.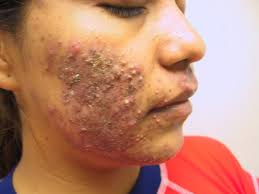 Normal severe acne vulgaris is called cystic acne. When cystic acne spreads and worsens, it turns into acne conglobata. Acne-fulminans is an even more severe form of acne conglobata. It comes on very suddenly. It results from unsuccessfully treated acne conglobata. So far, only about 100 cases have been documented, and it appears to be occurring less frequently .

Causes of acne fulminans
Although the exact cause of acne-fulminans is not known, it has been associated with increased androgens (male hormones), autoimmune complex disease and genetic predisposition.  It is also caused by immunological response to high androgen levels and antigens released from the acne-causing bacterium P. acnes.
Features
The primary features of this disease include sudden onset, severe and often ulcerating acne, fever and polyarthritis. When it is severe and ulcerating, They will crust up, causing cohesion to any fabric the sores touch, which is extremely painful to remove. As a result, it is recommended to sleep on one's sides until the cystic condition subsides, in order to avoid any uncomfortable situations.

Acne-fulminans is characterised by:
Abrupt onset
Inflammatory and ulcerated nodular acne on chest and back, which is painful
Bleeding crusts over the ulcers on upper trunk
Severe acne scarring
Fluctuating fever
Painful joints, including sacroiliac joints in 20% of cases, ankles, shoulders and knee joints
Malaise (ie the patient feels unwell)
Loss of appetite and weight loss
Enlarged liver and spleen

Treatment
Patients with acne-fulminans should consult a skin care expert urgently. in order to manage this disease, several medications are usually required for a long period of time, possibly several months or longer. These medications may include:
 Oral steroids should be started and gradually reduced over six weeks.
Oral isotretinoin should be started after four weeks and gradually increased to achieve complete clearance.
Response to broad-spectrum antibiotic treatment is poor.
One study reports the successful use of ciclosporin in combination with prednisolon
Infliximab may be used if other treatments are ineffective.
Pulsed dye laser is effective for granulation tissue associated with acne fulminans.
Home

›
Types of Acne
› Acne Fulminans
Tags
comedones, whiteheads, blackheads, acne conglobata, cystic acne, nodular acne, acne scar, laser treatment

Irresistible Acne Remedies. This free newsletter is delivered monthly, straight to your INBOX. It covers all new pages since the last issue. Sign up here...
---