How to Stay Young no Matter How Old You Get!
This report will show you how you can reduce the affects of wrinkles and other things that can cause you to look like you want to sit in a rocking chair all day.  These are simple things that anyone can do and they're really easy to take on!
You will discover strategies and ideas you can use to help keep your mind in a youthful mindset and stop the "getting old" process.  Most of these things you can do in your own home.  Think about it—you don't even have to leave your house!  With this report, you will find natural solutions to look, think and feel better and healthier. 

Click to download this PDF file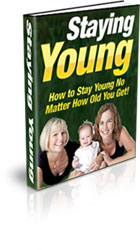 You will need Adobe Reader (the latest version is recommended) installed on your computer in order to open and read this e-book. You can download Adobe Reader here (a new window will open so you can download it without leaving this page).
If you want to open the file in your browser window, just click on the link (not all browsers have this feature). However, if you want to download the file to view later, then right-click on the link and choose "Save Target As" or "Save File As." Then select where you want to save the file on your hard drive.
Once you have saved the file, locate where you saved it, and double click to open it.
In order to print, open the downloaded file, and select the "Print" option from the e-book menu.
Irresistible Acne Remedies. This free newsletter is delivered monthly, straight to your INBOX. It covers all new pages since the last issue. Sign up here...
---