Sulfonamides - topical antibiotics
Is Sulfa Adequate for treatment of acne?
Sulfonamides are one of the many antimicrobial drugs ever invented in the nineteen century . Because of the huge success in the mid 1900s, many drug companies produced this drugs and released in to the market. As a results of the mass production and uncontrolled use of the drug the 1937, more than hundreds of peoples died only in the USA.
Sulfonamides also known as sulfa drugs are synthetic topical antibiotics used for the treatment of acne. Sometimes acne might not respond to OTC and oral medications. Under such circumstance, dermatologist prescribe a different types of antibiotics such as sulfa drugs.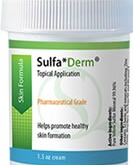 Sulfa is a combination of trimethoprim and sulfamethoxazole. It is known to delay acne-causing bacterial growth on your skin by boosting your immune system. Some of the sulfa drugs: Bactrim and Septra have higher chance of destroying the bacteria that causes acne. This days, unless your antibiotics are not worked, dermatologist won't prescribe sulfa as it has a higher incidence of allergic reaction. Therefore, physicians only prescribe sulfa when other treatment options are not working.
Sulfa drugs fight only bacterial infection that causes acne. As a result, physicians recommend the use of other OTC and prescription medication in order to get the full benefits of the sulfa drugs. Usually benzoyl peroxide containing product is prescribed along with antibiotics to maximize   your likelihood of successful treatment.
Side effects of sulfonamides
Sensation of spinning

Dizziness

Insomnia and joint pain

Ringing in your ears

Diarrhea

Headache

Severe allergic reactions

Fever

burning rash on your skin
If any of the above side effects  happens to you, you should get a medical aid.
Adverse reaction to sulfonamide is the common drug allergy that are estimated to occur in 3 - 6 % of the course of treatment. Only a small proportion of those adverse reactions be allergic nature. The followings are some of the symptoms of sulfa allergy:
The most commonly prescribed sulfonamide antibiotics
Sulfasalazine - is a medicine a drug used  for the treatment of  rheumatoid arthritis and inflammatory bowel disease. 

Sulfamethoxazole - it is the common sulfonamide antibiotic

Sulfadiazine silver -  a topical cream used for the treatment and prevention of infection in wounds and other type of burns

Sulfacetamide -  used for the treatment eye infection.



Home

›
Prescription Acne Medicine
› Sulfonamide
Tags
Topical antibiotics, OTC, oral medications, prescription medication, benzoyl peroxide  

Irresistible Acne Remedies. This free newsletter is delivered monthly, straight to your INBOX. It covers all new pages since the last issue. Sign up here...
---