Have you tried turmeric for acne removal?


Turmeric for acne - homemade natural recipes used to fight acne
Mentioning the word acne to many people makes them upset especially when they are the sufferer. Have you ever realised the effects that acne has especially in losing your confidence? You spend a lot of money to find for the solution every time, however; the results became unsatisfactory. Trying alternative medicine as an option for treating acne become more popular and inexpensive now a days.
Many countries have various ways of controlling disease naturally. They use ingredients from their kitchen and use it to solve one specific problems. In this article, I will introduce you one homemade natural recipes used to fight acne.
---
Turmeric for acne is the good way of controlling facial acne

---
Turmeric, as we all knows, are a spice that we used most of the time in our kitchen. Peoples in many parts of the world, especially in Far East, have well reported documents of using turmeric for skin care purposes beside cooking. They believed that turmeric have lots of beauty and health benefits as it has anti-inflammatory and anti bacterial effect.

The benefits of turmeric for acne
Used to clearing acne scars

Reducing age spots and  wrinkles

Adding a glow to your face

Reduces facial hair growth

Removes dead skin cells.
How to prepare turmeric face mask at home
You need the following ingredients in order to prepare turmeric face mask at home:
Turmeric powder

Brown rice flour or chickpea flower

Yoghurt or milk

Olive, almond or coconut oil

Honey



Add two spoons of turmeric powder in to the mixing bowl

Add one spoon of Brown rice flour or chickpea flour

Add two spoons of yogurt

Add half spoon of honey

If you have dry skin, add one spoon of olive, almond or coconut oil

Mix all the ingredients till you get consistent color.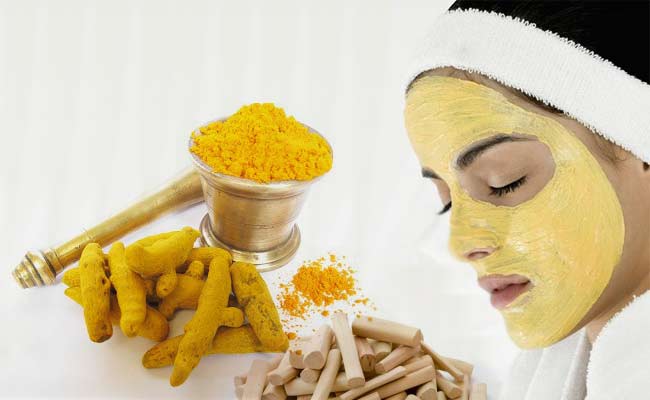 After mixing all the ingredients, apply using brush to your face. Do not put too much of the mixture on your skin, apply only thin layer until your face is fully covered. Since it is natural, you can also use it underneath your eyes to clear up some wrinkles unlike other face masks. You can also apply to your neck or body if you need since it has a lot of benefit to your skin.
Once you done applying on your face, wait for about half an hour and wash with tap water. The frequency of applying it depends on your skin type and purpose of using the mixture. If you have clear skin and you want to remove some hairs or minor spots, apply one times a week for at least a month. If you have acne scars, try to apply three times a week for at least a month.
Remarks
Since it has some yellow staining nature in your skin some people want the stain out of their face. If you want to remove this stain from your skin, you can wipe it off using a makeup toner and makeup remover.
You have to check also whether you are allergic to it or not by testing on a small discreet area of your skin.
Home

›
Home remedies for Acne
› Turmeric for acne
Tags
alternative medicine,  home remedies,

Irresistible Acne Remedies. This free newsletter is delivered monthly, straight to your INBOX. It covers all new pages since the last issue. Sign up here...
---