Retinoids
What is it?
Retinoids are chemical compounds related to vitamin A. The reason why we use it in medicine is due to the way it regulates epithelial cell growth. In addition to this, it has many function such as regulation of cell proliferation, immune function, vision etc
It is used in the treatment of many dermatological problems such as inflammatory skin disorders, acne and psoriasis. It is available through  prescription and over-the-counter.
How it works?
If you suffer from acne that hasn't gotten better with other treatment options, a retinoid may assist in many aspects. It can unclog the pores and assist other topical treatments to work better when it spreads on the skin, it can also reduce outbreaks of acne and the formation of scars by avoiding dead cells from clogging pores.
When spread on the skin, it clear pores and allow other acne gels and creams to perform better. It also minimise acne flare-up by avoiding damaged cells from clogging pores. They can also inhibit acne scar formation by clearing acne and preventing outbreaks.
---
20 to 30 minutes after washing your face, spread a
retinoid cream over the skin once a day.

---
Benefits of retinoids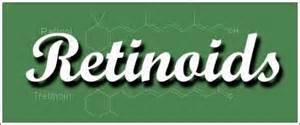 Using retinol consistently for a longer period  can change your skin by causing new skin cells to multiple and function at their best. It can keep your skin clear, repair sun-damaged skin and also prevent pre-mature aging.
Retinoid is filled with enormous potential such as skin changing factor, anti inflammatory properties etc. As a result of this, it become the gold standard for anti-aging and acne therapy. Even for the normal skin, it can help keep skin young and healthy through time.
You should be aware of this...
Retinoid reverse the thickening of  the outermost layer of the epidermis consisting of dead cells. When you use acne therapy containing retinoid, it can be frustrating at the start  since the follicular epithelium become loose and your acne can exacerbate for the first two to four weeks. However, at the end of the second month there is a significant change in the acne affected area.
Acne may require multiple products to get optimum benefit. So, dermatologists use topical retinoid for first line management of acne treatment.
---
To Get The Most Out Of Retinoid, Use It The Right Way.
---
Side effects
When you use it around the delicate area of the skin such as eyelids, it can irritate your eyes. So to protect your eyes use petroleum jelly around the eye area.

The most common side effect is irritation. Since retinoid exfoliate the skin,  your skin can become extra sensitive. To minimise this side effect, use retinoid slowly until your skin build up tolerance.

Purging and initial breakouts are another drawbacks of retinol. As a result of applying this product the already existed acne become worsened and also there will be a new breakout in an area of your face where there were not acne before. In this case contact your dermatologist before planning to switch to a new product or quit the treatments

It also increases skin sensitivity to direct sunlight. Therefore, try to stay away of the sun. Or try to wear a sunscreen, floppy hat, and big sun glasses.
Home

›
Topical Treatments
› Retinoids
Irresistible Acne Remedies. This free newsletter is delivered monthly, straight to your INBOX. It covers all new pages since the last issue. Sign up here...
---