Clindamycin for acne
Clindamycin for acne is another forms of antibiotics prescribed for the treatment of all types of acne. Unlike other oral antibiotics, it is prescribed mostly as a topical treatments as gels and lotions. But it is also an effective medicine when it is used in oral forms.
This medicine is used when other forms of oral antibiotics are not effective enough to treat acne. The ineffectiveness comes as a result of development of resistant bacteria against another forms of antibiotics. Besides, it can also used for patients that are allergic to other acne treatments. Both forms should be taken according to physician instruction, otherwise, the bacteria will develop resistance to the medicine.



Oral Clindamycin for acne
Oral Clindamycin is an antibiotics taken orally used to control acne. It belongs to lincosamides antibiotics family  also known as Clindamycin HCL (hydrochloride). When it is taken orally, it hinders bacterial ability to multiply and growth by interfering the bacterial protein synthesis. As a result, the bacteria cannot  reproduce and the disease can no longer spread. When it is used orally, the starting dosage is from 75mg - 150mg two times a day.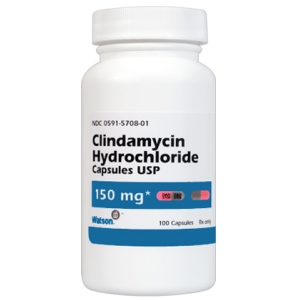 The major side effects of Oral Clindamycin
Joint pain

Fever

Skin rash

Gastrointestinal infection

Nausea and headaches.

Increase infection by Clostridium dificile as a result of prolonged use of this antibiotics.
Topical Clindamycin
Topical clindamycin is an antibiotics that is applied on the surface of skin to control acne infection. It comes as gel, foam, solution, pad and lotion forms. Some of these forms applied once a day, where as others are applied twice a day.
Precautions while using  Topical Clindamycin for acne
Apply at the same time every day.

Carefully follow the directions on the label

Apply as directed by a physician.

Tell your doctor if you have allergies of any types.

Don't swallow

Don't place it on broken skin, near eyes, mouth and nose.

Stay away from fire while using as it may catch fire.

Do not give these medicines to children less than 12 years of age and very old people, as the medicines has not been studied particularly in elder people.

There are no adequate information on the side effects to pregnant and breast feeding woman.
The major side effect Topical Clindamycin
Home

›
Oral antibiotics for acne
› Clindamycin for acne
Tags
oral antibiotics, topical treatments, acne vulgaris, mild acne

Irresistible Acne Remedies. This free newsletter is delivered monthly, straight to your INBOX. It covers all new pages since the last issue. Sign up here...
---